Crowded Shelves and Too Many Choices Can Overwhelm Even the Most Discerning Consumer
Fortunately You Can Depend on Unimac's
Years of Experience

With Your Food and Beverage Projects So Your Products Stands Apart From the Fray

We offer innovative eye-catching solutions for signage, shelf talkers, cartons, IRC coupons, product labels, affixed sample pack carriers, bottle-neckers, catalogs and all kinds of printed materials and packaging.

Let our experience work for you and enjoy worry free project execution while we make certain your project looks great, arrives on time and in pristine condition.

You'll also find we're experts in the planning, manufacturing and delivery of your packaging projects. Whether you're creating cartons, labels or point of purchase displays, our structural design teams work seamlessly with your creative and product teams.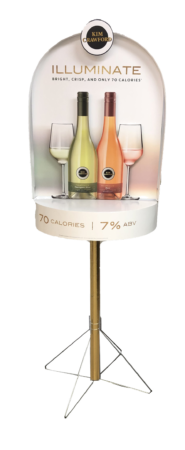 Beverage labels and packaging

require more than just great design to make an impact!

They require attention to every detail. Details such as compensating for varying temperatures and moisture, durability, shape and placement all should be considered.

Fortunately, our expert staff and state-of-the-art technology help eliminate the worry of addressing technical details so you can concentrate on designing stand-out labels, packaging and displays.
For our clients requiring

flexographic printing

, we provide the perfect platform for cost-effective production.
Discover a myriad of products on unsupported films, such as biaxilly oriented polypropylene (BOPP) films, metalized films, papers, pressure sensitive, and more.
Our goal is to help you maximize your design with exceptional color reproduction and labeling vibrancy. We take the time to make sure you're aware of the formats, substrates and options at your disposal to make certain your brand stands out – and apart – from your competition.